Consensus & Skeptics
The Obama administration continues to push its climate change agenda, with U.S. Secretary of State John Kerry suggesting while in Jakarta, Indonesia recently that the islands are at risk from rising sea levels. His faith in rising sea levels, however, bears little relationship to scientific fact. Referring to sea levels over the past 50 years, Dr. Michaels says "there remains no evidence for a climate-related acceleration."
Six experts were invited to give oral testimony to the Energy and Climate Change Committee of the U.K. House of Commons about the Intergovernmental Panel on Climate Change (IPCC) 5th report (AR5). Three experts reiterated the position of the IPCC, and three experts expressed a skeptical view. Dr. Richard Lindzen says the data presented in the AR5 "is consistent with there being no problem worth bothering about". Nicholas Lewis says the observational evidence in AR5 shows that the climate is much less sensitive to CO2 than in the models. Donna Laframboise says the IPCC is lead by an "environmental activist" and that the IPCC is "untrustworthy".
To gain public acceptance for carbon taxes and renewable energy subsidies, several studies claim a 97% scientific consensus on global warming. This Friends of Science report reveals that it is only a mathematical manipulation and psychological ploy. Our deconstruction shows that there is no 97% consensus on human-caused global warming as claimed in these studies. None of these studies indicate any agreement with a catastrophic view of human-caused global warming. The 16-year pause in global warming has led to demands for the IPCC to be overhauled.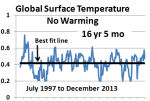 Emeritus professor Garth Paltridge, former chief research scientist with the CSIRO Division of Atmospheric Research, says "Virtually all scientists directly involved in climate prediction are aware of the enormous uncertainties associated with their product." He explains that climate models are unable to simulate the behavior of clouds and oceans fluctuations, two factors that have enormous effects on climate. The 16-year pause in global warming shows that climate scientists have seriously overstating the climate problem which risks destroying the reputation for honesty in science which is the basis of society's respect for scientific endeavour.
Climatologist Dr. Judith Curry presented this testimony to the US Senate Committee on Environment and Public Works. She says "Multiple lines of evidence presented in the recent IPCC 5th assessment report suggest that the case for anthropogenic warming is now weaker than in 2007. For the past 16 years, there has been no significant increase in surface temperature. There is a growing discrepancy between observations and climate model projections. Observations since 2011 have fallen below the 90% envelope of climate model projections. The IPCC does not have a convincing or confident explanation for this hiatus in warming. CO2 is not a control knob that can fine tune climate."